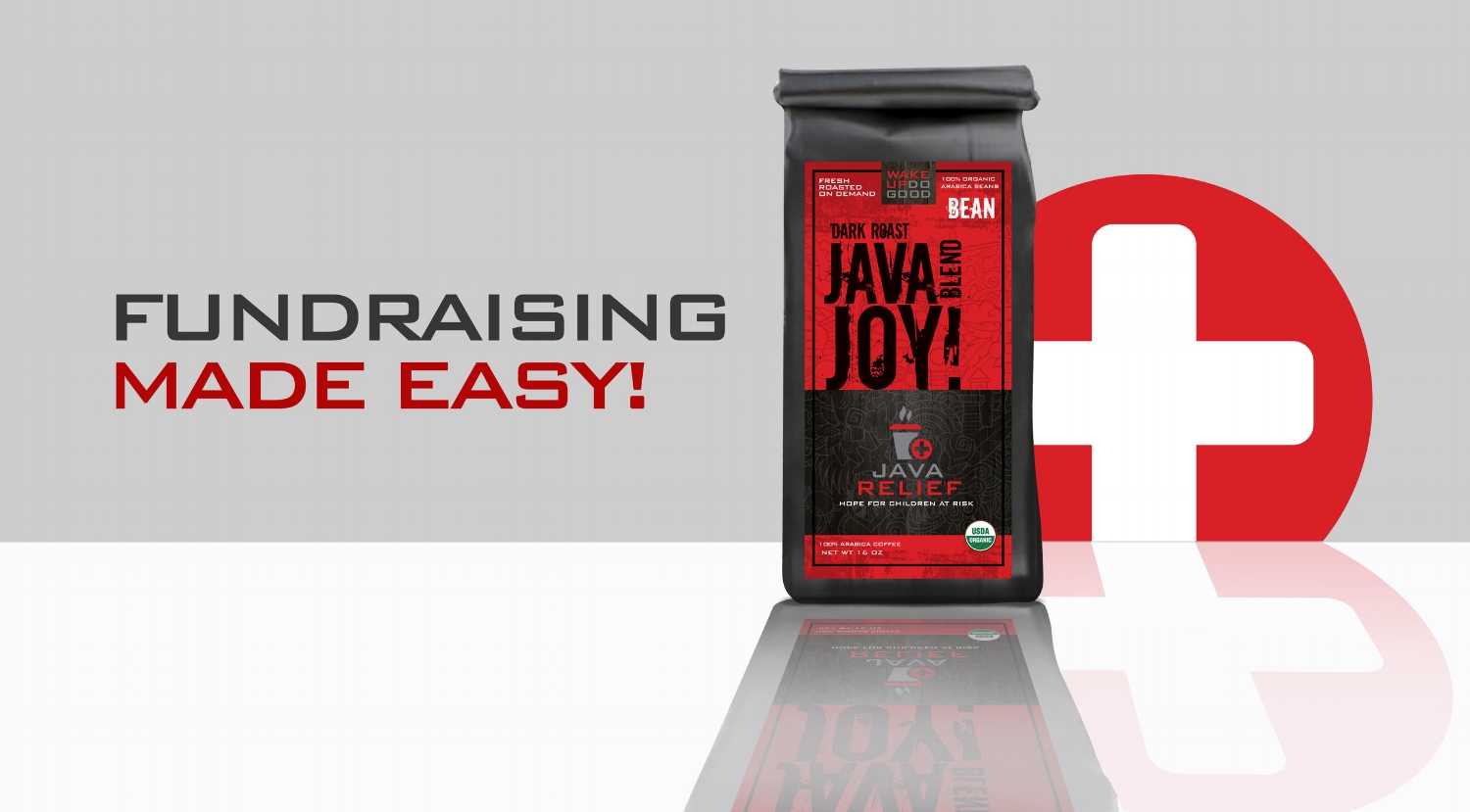 Fundraising with Java
Java Relief — Java Joy Fundraising Opportunity
Java Joy FundrAising Program
An easy way to raise money for a good cause.

This coffee fundraising program is a great opportunity. People love coffee!
You sell 16oz bags of organic, fresh roasted coffee that not only helps your fundraising, but also helps children at risk with every purchase! It's a win, win!
How it works:
You set the price and the margins however you wish. Your profit margins can easily be 50%. You sell our exclusive, 16oz bags of Java Joy coffee that are not offered on the Java Relief website. (Java Relief sells 12oz bags for $12.00 so your 16oz price should be higher.)
Pricing:
You pay $10.00 per bag from Java Relief. If you then sell it for $18.00 — you make $8.00 per bag! Or charge $20 a bag and make 10 bucks for every bag you sell, the selling price is up to you.
The minimum order to get started is 120 bags. You can purchase any amount over 120 (121, 156, 393, whatever.) You can take orders ahead of time and place the coffee order all at once. Or buy a bunch and start selling.
Program Details:
• Exclusive Java Relief Java Joy 16 oz package design.
• Sell sheets provided upon request.
• USDA Certified Organic Registration.
• Fair Trade Certified Compliant Labeling.
• Java Relief info card for each bag.
• Minimum Order 120 lbs/per order (16 oz units).
• Packaged in 40 unit cases.
• 15 business day production lead-time from payment received.
• Payment by credit card requires 5% convenience fee (no fee for checks).
• Prices do not include shipping (can be picked up from us for free).
Contact us for more information or to set this up.
Remember, you can purchase any amount over 120 bags (121, 156, 393, whatever.)
You can take orders ahead of time and place the coffee order at the end, or buy the coffee and just start selling.